Located in north west Italy there's a place called
Lucedio
. Its abbey holds one of the most intriguing mysteries of the world:
the Devil's music sheet
.
There's a local legend that tells that in 1684 an evil presence was evoked near a cimitery close to the abbey. The sorcerers who made that magic lost control of the demon and it possesed the minds of the priests of Lucedio's Abbey.
Completely controlled by the demon they started a period of violence and abuse of their spiritual and temporal power. Out of this events the myth of the "
Weeping Pillar
" was born and it still can be seen in the main hall. The pillar weeps (actually mysteriously becomes wet) for all the violence it had to see. Right in front of that pillar the destiny of those innocent people was chosen.
This period of violence last almost 100 years when the Pope finally sent an exorcist from Rome. This person fought and won against the evil and shut the demon him in the abbey crypts. The mummies of the priests were put in circle around the evil presence to protect it.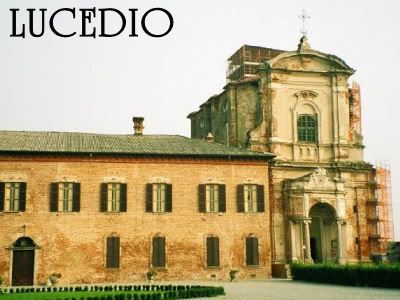 The Lucedio Abbey was found in 1124 ac.
After that the abbey was secularized. As additional guarantee to the imprisonment of the demon, a music was composed and it's now known as "The Devil's music sheet". It's a melody that, accordingly to popular belief, had and still has magical and esoteric powers.
The particular thing about this music sheet is that it has been painted as an affresco in the abbey and even more particular thing is that it can be played both normally from left to right and also backwards. It's a palindrome melody.
A bachelor in ancient and liturgic music who studied the Devil's sheet stated the following things:
if you put letters instead of the classic notes you can clearly read three words: DIO FEDE ABBAZIA which mean GOD FAITH ABBEY.
The initial chords were usually used as ending chords in songs. It almost looks like it has been painted backwards on purpose.
Popular legend tells that if you play the song backwards you will free the demon, if played normally you seal it again or you just make the seal stronger.
Also the name of the place, Lucedio, is a bit weird itself and can be interpreted in two ways: as "Luce di Dio" Light of God or deriving of Lucifer's name.
The Weeping Pillar area


Since then the former abbey is said to have been the focus of aural and visual paranormal activity, such as mists that appear from nowhere, strange lights, moving objects and the sound of whispering voices. When the 'Ghost Hunters International' team visited, they reported they had seen shadows, a whispering voice and one member said she felt as if someone had grabbed her shoulder...