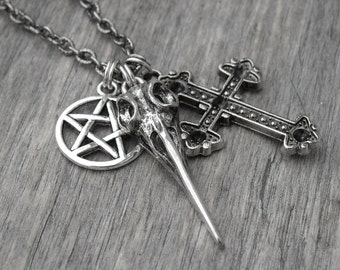 The
occult
(from the Latin word occultus "clandestine, hidden, secret") is "knowledge of the hidden". In common English usage, occult refers to "knowledge of the paranormal", as opposed to "knowledge of the measurable", usually referred to as science. The term is sometimes taken to mean knowledge that "is meant only for certain people" or that "must be kept hidden", but for most practising occultists it is simply the study of a deeper spiritual reality that extends beyond pure reason and the physical sciences. The terms esoteric and arcane have very similar meanings, and in most contexts the three terms are interchangeable.
It also describes a number of magical organizations or orders, the teachings and practices taught by them, and to a large body of current and historical literature and spiritual philosophy related to this subject.
Occultism is the study of occult practices, including (but not limited to)
magic, alchemy, extra-sensory perception, astrology, spiritualism, and divination
. Interpretation of occultism and its concepts can be found in the belief structures of philosophies and religions such as Gnosticism, Hermeticism, Theosophy, Wicca, Thelema, Satanism, and neopaganism.
"During the Victorian era and the early 20th century, occultism swept across America and Europe. The movement centered on the belief that life continues after death, and that spirits can be contacted via mediums. During this time, many people came forward claiming they had psychokinetic powers and went to great lengths to prove it, either by photography or performance art. Seances, levitation, and spirit writing became embedded in the imagination of the public.
The movement began to decline as many prominent investigators, such as The Society of Psychical Research, began to debunk many cases in which paranormal activity was alleged. The following photos show a fascinating glimpse into a bizarre time in human history.
COLIN EVANS PERFORMING A LEVITATION:
SEANCE IN BERLIN (1930′S):
PHOTOS OF A SEANCE (1940):
TELEPATHIC MANIFESTATION:
SEANCE CONDUCTED BY EUSAPIA PALLADINO (1898):
SEANCES CONDUCTED BY MINA CRANDON:
PHOTO OF A SPIRIT MEDIUM (1923):