Some days ago I went to Sephora shop to help my mum in a search for a perfume for her and I couldn't help but getting lost in looking at all those beautiful perfume bottles!! Especially these few ones got my eyes:
John Galliano's
omonim perfume:
this is a floral aldehyde fragrance with notes of aldehydes surrounded with floral notes, with amber and patchouli in the base notes.
Its bottle is a real piece of art, crowned with Gothic letter G, while the outside package is illustrated like a book.
Avril Lavigne's
Forbidden Rose
Even though I personally totally dislike her, perfumes signed by celebrities are always very good. And this one is too. (PS. The fact that she made a perfume with such a gothic look, does NOT mean she's gothic!!! She totally isn't and will never be.)
Anyway, this is how the perfume is presented:
"Forbidden Rose is a sparkling fusion of fruity, floral and woody notes that blend together to create a spirited composition. With its hints of both fantasy and fearlessness, Forbidden Rose comes to life, like a fairytale. The fragrance opens with the forbidden fruit itself – the ever-enchanting red apple, enhanced by delicious wine peach. The story then unfolds with notes of white lotus, adding pureness and beauty. The base of the fragrance shines through, exuding warmth through its vanilla and sweet praline accents. A deep woody undertone finally emerges, completing Forbidden Rose's captivating tale."
Belen Rodriguez's
(italian starlet) own signature perfume with the corset bottle!! (Sorry but i couldn't find anywhere the description of the perfume ;(
And finally (last for now) the
Katy Perry's
perfume
Purr-fect
!! I'm in love with the bottle *-*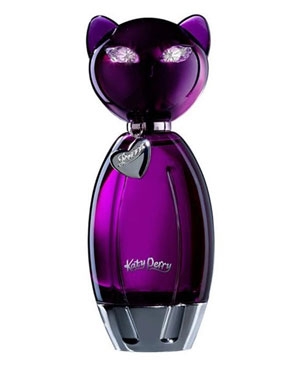 combining top notes of peach, forbidden apple, gardenia and green bamboo with the heart of jasmine, pink freesia and Bulgarian rose and the base of vanilla orchid, creamy sandalwood, white amber, coconut and musk.
And how can i not talk to you about
Gwen Stefani's Harajuku Lovers
fragrances?? The bottles are so cute *-*
I own all this ones and they are all very good! You can now find other versions of the bottles, the dolls with different dresses! Also you can find Harajuku Lovers purses and other stuff! Just go check the official site! :)